Fredag d. 15. august holdte jeg indlæg på ERFA møde i SharePoint Bruger Gruppe (SPBG) under titlen "Self-service BI muligheder i Office 365". Mødet blev afholdt hos Fastrup Software i Incuba i Aarhus. Jeg startede ud med en generel introduktion til Self-service BI og gennemgik derefter en end-to-end Power BI demo. Sluttede demoen af med at fokusere på Power BI sites – herunder Data Management, Q&A og Admin Center. Der blev også tid til en hurtig demo af Microsofts native PowerBI app på Windows RT.
Indlægget blev afrundet med en sammenligning af BI mulighederne i O365 E3/E4 (SharePoint Online), Power BI og on-premises 2013. Det er tydeligt at Microsoft har stor fokus på cloud og nedprioriterer de mange enterprise on-premises kunder, som også gerne vil have f.eks. Q&A og Enterprise Data Search.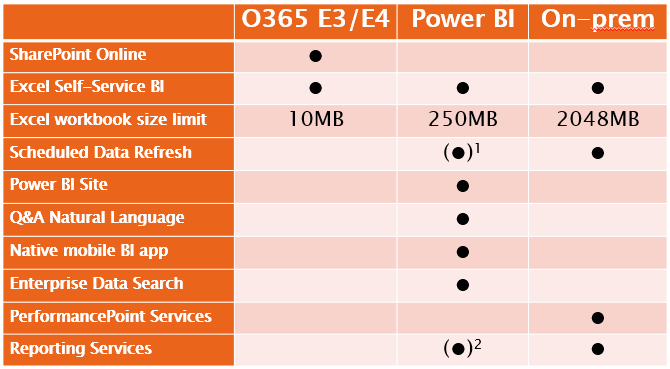 (1) Scheduled Data Refresh til Power BI er stærkt begrænset på hvilke enterprise datakilder det understøtter. (2) Reporting Services til Power BI blev vist frem til PASS BA konferencen og skulle eftersigende komme "late summer".
Kan i øvrigt anbefale at "SharePoint BI and Power BI – Happy Together" session fra SharePoint Conference 2014 som ligger på Channel 9.